Apr 27, 2013
1,065
4,681
Primary Interest:

All Treasure Hunting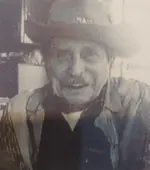 Johnny Kochera 1996
Almost everyone has heard the story of Kochera finding a leather bag filled with gold ore on Peters Mesa in the 1960's.
But few know of Kochera's mining claims filed in the early 1980's, almost 20 years after his Peters Mesa discovery.
John Kochera filed 3 mining claims, one each in 1981, 1982 and 1983. The claim names were the Little Dutchman #1, #2, and #3.
All three claims were in East Boulder canyon on the east side of Palamino Mountain almost due east from the highest point on Palamino (2738 ft.) and about half way up the mountainside.
The claims were Arizona Mining Claim numbers AMC 148343, 188588 and 204659. All were lode claims filed in Maricopa County in T1N. R9E. SEC 1 and 12.
A second man's name, Joe King, appears with these mining claim work assessments. But there is no Joe King, his real name was Joe Kochera, Johns brother.
As the wilderness act took effect in 1984 John Kochera tried to sell these claims to several people in Arizona. Years ago I looked for these claims but couldn't find any claim markers. There were however several serious digging in the area I doubt if the Kochera's had anything to do with.
The co-ordinates for the claims are given as 33.4550 N. and 111.3860 W.
Are there any Google earth experts who can get a clear picture of this area? There is something I remember from there that might show up on satellite image.