Apr 21, 2012
157
639
Detector(s) used

Equinox 800 / Garrett AT Pro / Garrett ProPointer, Garrett ProPointer AT
Primary Interest:

Metal Detecting
Today was a grey, rainy day but I was determined to get one last hunt in before the end of the year. I went to a local schoolyard I've had some luck at, and started hunting the woods adjacent to it.

I was barely six feet into the woods when I got a 24 signal on my Equinox. I figured it was just another Lincoln cent, but after digging about 8 inches down through roots I found this token:




It's an 1837 "Hard Times" token, which was issued during the "Panic of 1837" during Martin Van Buren's presidency.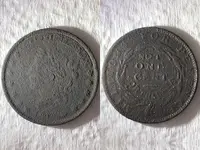 (Here is a sample of one in slightly better condition)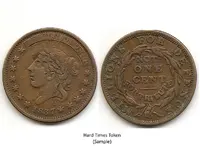 I've read about these, but never expected to find one at the local schoolyard. It's a pretty great way to finish 2021 (and hopefully the "Hard Times" are over soon!)

Happy New Year to everyone - hope 2022 brings good luck and good health to all of us.