Hello all,,,
I haven't been getting out lately. It's been too cold for this old boy. We had our first significant snowfall the other day so we took the dog out to play... He loves the water and I knew he wouldn't stay out of it, no matter how cold it was. It was 24 degrees when theses shots were taken...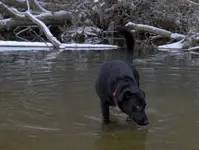 I was trying to take some pics of the ducks. They're really fat' ened up for the winter. That lasted for about a minute before the dog chased them off. He'd probably freakout if he ever got a hold of one of 'em...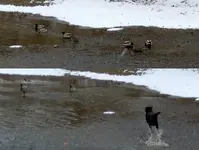 We made another stop at the park on the way home to take a shot of these red leafed trees. I thought they looked pretty neat against all the white snow...
Hope you all are doing well. I'm staying in until it warms up some so see ya on the forum...
Have a great day, Leon...