I received an invite to meet Tnet's
Bergie
in the Lowcountry of SC. He had lined us up a couple of permissions. We have hunted there before with some success.
It's a beautiful place. There were flowers blooming in the woods, yeah in December. I stumbled upon this log, that is obviously inhabited by a fairy.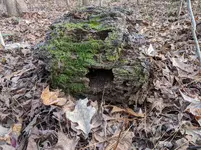 Here is a picture of what I dumped from my pouch. All the coins but one were modern.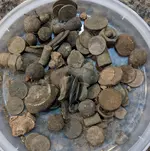 The "good" coin was a Merc. It was deep in the woods, next to where I found old stuff, I was sure it was a seated dime... ugh...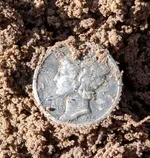 Here are all of the goodies I found. Broke(n) skeleton key, hit-n-miss motor part, couple of flat button, hand full of musket balls.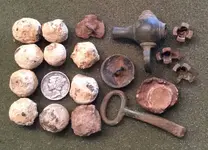 I did manage to find one fired Williams cleaner, with the disc attached and three percussion caps from the Civil War. As usual, I had hoped to find a bit more, imagine that.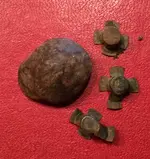 Bergie
is a great guy, he felt so bad for me, he gave me some relics! I didn't even have to dig them. He coughed up a Williams cleaner with disc, a dropped 3 ringer, percussions cap and a SUPER Dragoons button!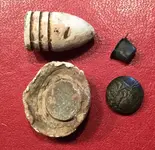 This button is from the western US, I will leave it at that. It's a beauty that will I fondle frequently. Thanks Bergie!
Thanks for looking and good luck on your hunts.
Last edited: