Feb 22, 2014
934
2,215
🏆 Honorable Mentions:
Detector(s) used

CTX3030 w 11" and 17" DD coils,
Minelab Excalibur II w 10" coil, Equinox 800 (2) w 11" and 15" coils,
Troy Shadow x2 w 7" coil, Pointers; Garrett Carrot, Pro Find 35,
Vibra-Tector 730 w 4" coil
Primary Interest:

Beach & Shallow Water Hunting
I usually metal detect the surf and as a back-up hunt dry sand along east and west coast Florida beaches. But I also love history and research, which lead to this major find for me.

I was reading a local history related book with maps and noticed a large departure from the current landscape compared to the landscape from about 100 yrs ago. The early landscape included cottages and a community which is no longer in existence. A forgotten community! What an excellent metal detecting site, I thought, possibly even virgin metal detecting ground! Is that even possible, especially in Florida with 10 million Metal Detectorists?

Due to circumstances, I had my first visit to the site one evening, only 3 hrs before sunset. I usually swing my detector from the moment I get out of the truck to the moment I return to the truck, but not this time. I had to walk about a mile to the site and, given the time constraints, with detector in one hand and sand scoop in the other, I high-tailed it straight to the site and previewed the surroundings. I decided on a strategy to cover the most promising ground first and started swinging before the CTX was even fully booted-up. Almost immediately, I hit on a 12:40 target; a cent I thought, and given the new site decided to dig it up. Sure glad I did!

The target was about 15" down underneath a layer of fist-sized rocks and it took me a while to retrieve it. The thing that immediately caught my eye was what I thought was a 2" long horn. Also, I could just make-out a little silver metal. HOLY SHUCKS, I said out loud, or something to that effect, this is really cool!! I couldn't see much else of the target except for the horn and small silverfish piece due to the encrustation.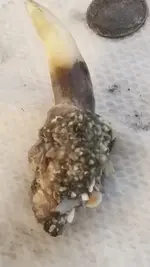 The rest of my 3 hr hunt was uneventful, except for the clad that I retrieved - the dates were all from the 1960s – early 1980s.

When I got home, I immediately went to work cleaning the target and as the evening progressed so did the beauty of the find, as shown in the pics below.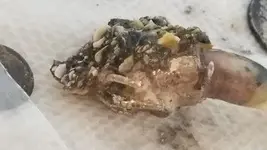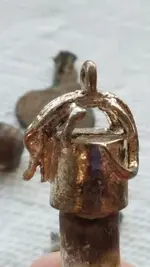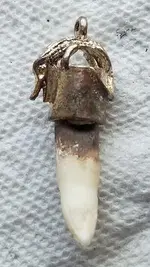 The target is, I believe, a silver capped alligator tooth with fine-detailed alligator motif with loop. The entire length is 2 ¼" . Man, this, to me, is a once-in-a-lifetime find!

As for the site, I'll have to do more research as to what happened to the site as the years went by, but suffice it to say I'll be returning to the site the next chance I get. In the meantime, I'll just sit back and get long-in-the-tooth!

Happy Hunting