Jun 4, 2009
3,198
2,849
Primary Interest:

Other
It's curious, although understandable, that archaeology (which is, as a branch of anthropology, supposedly concerned with understanding the lives and mores of the people who came before us) ignores ( or writes off as meaningless) the abundant evidence of widespread genocide at the conclusion of the Middle Woodland in the Appalachians.
Up up through Middle Woodland, a great diversity of point types are found ; many of culture-specific lithics (like Fox Creeks, which are seemingly always of argellite) and many sites. These were capped with a layer of charcoal from burned dwellings, &c. At which point these sites were never inhabited again (judging by what's found on them). The remaining inhabited sites -- and only these --produce the Levanna and later Madison triangles of the people the first Europeans encountered.
This correlates well with the oral history of the Susquehannocks, who recount that they fought their way in from the west, annihilating the Giants they encountered, who were hostile to them.
Not the best picture, but it will do, of the contents of a medicine bundle I found in black (from charcoal content) soil at the very edge of a cultivated field which had been an exterminated village site because the farmer who leased it decided to cheat one more row into the edge, which had never been ploughed before.
What else may have been in it I don't know, but these four items -- three from distant sources -- were found together. A fossil shell of Houserville Jasper, another of slate, a quartz crystal, and a mystery crystal fragment that is striated like tourmaline, but colorless.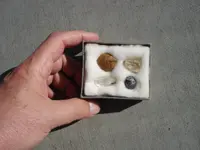 Now cue Twilight Zone theme music. We had a dearly loved cat we had to send over the rainbow bridge to kitty heaven due to a painful and fatal medical problem it would have cost way more than we had to try to remedy with a complicated operation. That same day, this old River mount (pictured) fell off the end table it was on, landing on thick carpet. But when I picked it up, I found the mystery crystal had split into two pieces. Never left the padded box and never touched anything else in it. I think it was Tigger's way of saying goodbye to us.
Happy trails, little buddy.
Last edited: