Hello all, I have been prospecting on BLM land close to a mine site about 3 miles away. I have come across 1st mica vein that yeilded about 29 oz of mica. Not counting what I did not pull out in smaller pieces. I am going to assume it is mica because of the thin layers and it being flakey. This first one I found about 300 feet up the side of a mountain in quartz's. Here is a couple of pictures.
After further looking around about 300 feet to the west found another vein at about the same height on the hill. When I got done up there I went to the wash at the bottom of the hill and followed the wash west for about 500 feet and a 3rd mica vein in quartz's found here are some pictures of this one.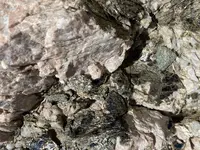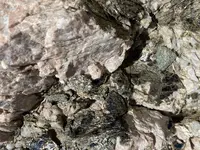 My question could this be a good indicator of gold bearing quartz's in the area. I am going back to the area tomorrow with my gold monster 1000 which has not detected any gold on the 2 of 3 spots so far.
I have found what appears to be iron ore small rocks witch is indicating both non ferrious and ferrious in these particular rocks. The gold monster will should Botha sides of the meter on these rocks depending on the direction of the swing multiple times.
Can anybody give feed back this is a area that I am not familiar with in hard rock mining. Since I have only been using a metal detector for prospecting.