Where is the San Francisco Peak?
On page 199 of the
Treasure Hunter's Manual #6
(Revised 1973 Edition) is a photo of a rock cairn which Karl von Mueller identifies as a "Spanish Marker." The descriptive text states: "This is a typical Spanish pointer. Thousands of these are known to exist in an area extending south from Salida, Colorado to Central America. In various areas, when certain combinations of these markers are coordinated they locate, exactly, Spanish Mines, smelteries, and caching sites. The Spanish never smeltered the ore at the mine. This explains the large smeltery near San Francisco Peak and another at Ft. Sumner." For the sake of discussion, I placed the "San Francisco Peak" smeltery near Francisco Peak in Colorado and Ft. Sumner smeltery is placed at Fort Sumner, New Mexico. Can anyone share the name of a book, article, or reference that provides evidence of these ancient smelters?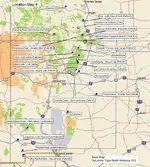 If ore was smelted near Francisco Peak, locally sourced coal could be used to fire the furnace. The ingots could have been cached in the area until sufficient transportation (slaves and/or mules) is acquired. Ft. Sumner is located next to the Pecos River. A potential transportation route would be along the Pecos River to the Rio Grande River and the Texas Gulf Coast.