Apr 20, 2018
1,577
7,347
🏆 Honorable Mentions:
Detector(s) used

Fisher CZ-21, Minelab Excalibur,Garret AT Pro,
Primary Interest:

All Treasure Hunting
I went to the 3rd beach at the state park and worked the beach with my ATPro that just came back from repair. I wanted to check it out and be sure the repairs were successful. I spent 5 hours covering about 2/3 of the fresh water lake beach. I was considering working the water later, but this park has now posted signs when they pulled the swim ropes like the other state parks that read DANGER KNOWN HAZARDS NO SWIMMING so I will have to wait until spring to do the water.
I know this beach has been detected this fall so I wasn't expecting a lot, but as always I was hoping to get lucky. I found 34 coins with a face value of $2.84, a metal button, a number tag, a manufacturer's label tag, a big pile of sinkers, tweezers from a Swiss Army knife, 2 stainless screws, a fish spinner, 2 swivel snaps, bits and pieces of jewelry, a few bottle caps, tabs and lots of foil.
I really love the cute little dolphin. It is just a shell and I'm not sure what it is a part of. It could be silver, but I'm not sure. The earring is marked and is silver. The pendant appears to be stainless steel. So overall a fun hunt with a little silver and a decent amount of gas money.
I went back to camp and worked 2 areas that are not campsites. They are activity areas and they do sometimes have tarps and tents set up. They do not have anyone staying there so the finds are not as plentiful. I was not expecting a great hunt and I was right. I found twice as many tent pegs as coins.
In my 6 hour hunt with the CZ21 I found 77 coins with a face value of $6.77, 154 camp tent pegs including 3 big berthas, a leatherwork stamp handle, a scout knife, a 4-10 shotgun slug, sinkers, a half penny (not the kind we like to find), a broken pendant, a bolo tie end, 2 clevis pins, a neckerchief slide and some tabs. Because no one stays in these sites there were no campfires so no melted aluminum and no bits of foil from food preparation.
I found 132 tent pegs in 4 hours at the first spot and the other 22 from 2 hours at the second location. It is unusual to find this many pegs in a hunt. In some spots they were almost on top of one another. The big berthas (my nickname for them) are 1 inch in diameter with a T bar welded to the top. They are tapered on the end and have registration numbers stamped into them. I have recovered over 16,000 camp pegs since 2013 and only about 30 of them were big berthas. They look like they were made for some special purpose by someone with access to commercial metal working equipment.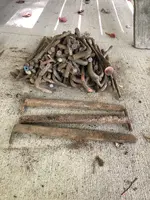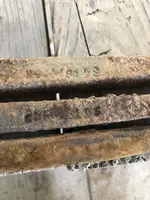 So lots of pegs for camp, another neckerchief slide to reclaim for the boys in the troop, gas money and lots of exercise in the fresh air prying tent pegs out of the ground and digging up treasures.
My wife and I are headed to the ocean tomorrow for a long weekend. I will get more time to swing the CZ on the salt water beach. I don't think I will be getting in the water. It is usually a little rough this time of year and cold as well. I may give coin beach a try, but I don't usually have any luck there. Maybe I can find a few spots that haven't been hit already this year. Thanks for looking, stay safe, good luck and may your coil lead you to good things.