Jan 6, 2019
263
1,629
Detector(s) used

Garrett ACE 400; Equinox 800
Primary Interest:

Metal Detecting
We've been hammering this site and it has produced a few goodies but this last hunt was one of the better ones. I had another first, a Trime! Added a little lemon juice and it shined right up. And it was 1851, the first year.
I also found an awesome military button, a SC Militia, palmetto tree, two piece button. I believe, pre-civil war, 1840's-1860's. This one, I wasn't sure what it was when I found it but knew it was something. I really had written it off as too damaged to tell, Lost Signal suggested the lemon juice on it as well and I was blown away with the results. Below is out the hole, partially cleaned and final cleaning.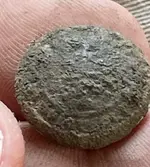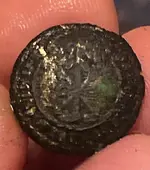 Found some other goodies, lots of plain flat buttons, not pictured, a decorative piece maybe from a gun, a buckle with a tiny piece of the silver plating left and a lead bale seal with stars that I thought was interesting.