Apr 9, 2012
11,626
34,130
🥇 Banner finds
🏆 Honorable Mentions:
Detector(s) used

Garrett AT-MAX
Garrett AT-PRO,
Garrett Groundhog,
Pro-Pointer,

Jack Hammer!
Primary Interest:

All Treasure Hunting
But.....I am *tired* of the hot!

I had to peel and shadow hop today! C'mon!!! Its September already!!

Anyway, managed a long walk.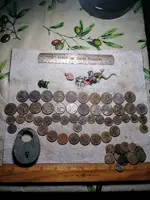 This thing was almost 13 inches down! And...it *still* rang up at a VDI of 83!!
Solid brass! I figure that with a bit more cleaning, some oil and a key. This thing would still work!
Dunno how old.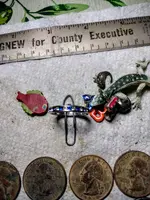 Nice lil bling too!
Its either not marked or worn so much they don't show anymore. Still, a rather nice exit find!
Thanks for peeking!
Stay...........cool?