Mar 2, 2019
181
503
Detector(s) used

Minelab Etrac
Minelab Equinox
Primary Interest:

Metal Detecting
I got out for what was supposed to be a couple hour hunt yesterday... that turned out to be 6 hours!
Not finding too many high tones in my favorite corner of my new honey hole, so I've been digging the low tones and going for gold. I know it's there!
Started the afternoon with a buffalo, followed shortly by a wheat. Nothing else but can slaw and bottle caps for the next hour or so. Watched a couple pull up at the hundred year old church across the street... he hollers from across the way, "You finding anything?" I reply with, "Just a few old nickels and pennies."
He nods and follows his wife into the church. I figure they're getting communion set up or turning on the A/C for Sunday morning. While they are inside, I get a solid 18 at 4 inches on the Minelab Equinox. Pop the plug... war nickel! Yes... some silver. Five minutes later, they come back out and I drop everything to ease across the road and show them my finds and tell them about the hobby. Five minutes later, I am detecting in front of the church with the lady's blessing and her name if anyone stops and questions me. Not much but clad there... and a 1943 merc! Yes! Silver number 2.
After working the church yard and not finding anything else old, I went back to nickel scrubbing for an hour with no luck... and then hit a row I must have previously only cherry-picked. Got a signal that sounded wheatie tone one way, half dollar tone at 90 degrees. Popped the plug for an on-edge 1938 merc. Yes! More silver. Two steps later, I get a deep low tone that could be a war nickel... around a 17 on the nox. Cut a plug... there is a TINY silver coin! Looks foreign...
I see a king... it's gotta be a fish scale! What the heck is a Canadian 5 cent silver doing in Texas? I've seen them dug on YouTube, but never imagined I'd dig one around here. Well, I had to keep going... because I've had several 4 silver coin days before... but never 5.
Five minutes later, another 18 signal buys me another war nickel and I head to the car with a new personal best!
Here's the good stuff...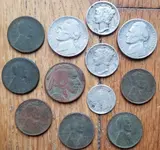 Front and back of the silvers and buff...
A closeup of the Canadian fish scale...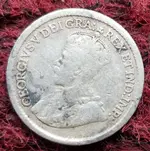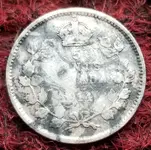 And... does this count as a nickel trifecta?!?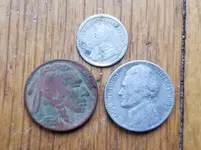 Found this tiny filled ring in a short hunt there Friday...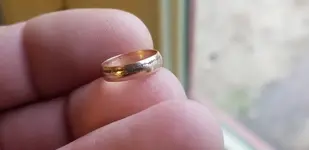 And got a few more keepers, including a sterling handle and a war nickel, this afternoon (Sunday) in a 2 hour hunt!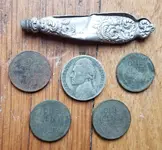 Thanks for looking! HH and GL!