Aug 14, 2016
796
6,595
🥇 Banner finds
Detector(s) used

Deus XP
Primary Interest:

All Treasure Hunting
Some of you may remember my GWI button site that I can only detect for a few weeks out of the year. The dense brambles and brush make it impossible to detect except for a small window after the snow melts but before the nettles come back. Even then only about 50% of the ground is accessible. I had actually been procrastinating because I was worried I had built up the site too much in my head and I couldn't possibly be anything but disappointed by the return trip.

Fortunately I was incorrect and while I didn't find any of the other GWI buttons that I'm sure are still hiding there, I did manage some more great relics and two colonial copper coins that just floored me!
There's a small spot between the corner of the foundation and the well that's only 15 paces away. Both sit at the edge of a gentle slope down to the stream and I always figured it for a high traffic spot, but had only found iron signals on the first pass. I was clearing the iron when I got a choppy high tone which is usually also deep iron. To my surprise I saw a green disc in the plug: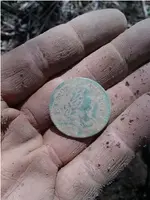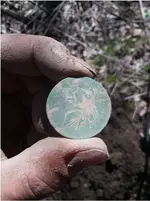 A Vermont Britannia Copper! Even out of the ground all the details were crisp and distinct which is even more amazing considering the state of the other coins at this site. I found 7 colonial coppers here last time, but all were toasted since the ground is clay that holds the moisture all year. This one was just in the exact right spot where the soil was mostly loam and slate fragments and right next to the slope so the water was just whisked away.
Back at home I carefully removed most of the clinging dirt and the resulting coin is simply amazing.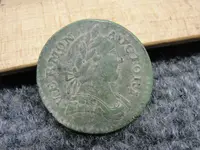 If you aren't familiar with Vermont Britannia Coppers the backstory is actually very cool. At this point Machin's Mills (of counterfeit British halfpennies fame) had a contract to make Republic of Vermont coppers. The earlier landscape coppers hadn't been widely accepted by the public outside of Vermont so in an effort to make them easier to use in trade it was decided to model them after British halfpennies. Someone must have decided that the best way to do that was to straight up use one of the counterfeit halfpenny dies as a reverse which is why one side says "Britannia" while the obverse has "Authority of Vermont" in Latin.
Because this was a used die and because Machin's Mills intentionally made their counterfeiting dies pre-worn, the reverse on these coins is always faint. What's unusual about this particular specimen, and what makes it a legitimate rarity, is that a trace of the 7 in the 1787 date is just barely visible (although almost impossible to get a good photo of.)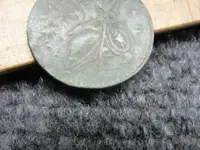 As the minting went on the date wore away until it was completely gone, so for a coin to have a trace of the date it would have had to be earlier in the minting run and even then it would have to be practically uncirculated for the date to still survive. This is rare in collection specimens let alone a dug one!

What's more, this wasn't the only amazing copper to turn up. Just a few paces away and down the slope I got a clear coin signal. It was completely encrusted so I didn't snap a photo (I assumed it would be toasted like the others), but when I started cleaning it I realized the encrustation had preserved it.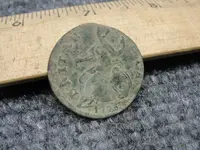 The encrusting soil had the consistency and hardness of cement, but it kept all of the detail as long as it was removed slowly enough. I do wish I had a before photo to show because it took hours with Andre's pencils to get it to where it is now. For awhile I thought it was a 1776 with a die break on the 6, but upon closer examination I think it's more likely a 1775. Definitely not a regal issue half penny, but it doesn't match any of the Machin's Mills dies. As of now my best guess is a British made counterfeit.
I can't be sure that these were part of a spill, but it is possible considering the slope and the interceding 200 years. Even as separate drops these are two incredible colonial coppers that I'll have a tough time topping!
There were plenty of period relics made the hunt consistently fun even though they seem sort of tame compared to the coins. Of course that includes tons of buttons: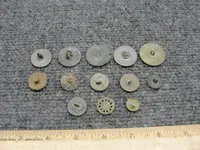 I actually found my first military button for the site too:
It appears to be a War of 1812 light artillery button with an arrow through the wreath. Not in great shape, but this is my first War of 1812 script button so I'm very happy with it! There was also this intriguing little bronze square with a sunburst etched into it that was a mystery at first. It has since been identified (thanks Crusader!) as an 18th century coin weight.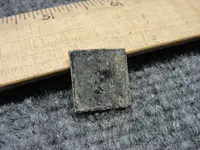 I also found this very nice pin or broach of some sort: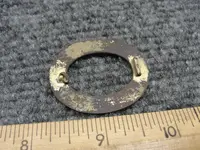 Lots of gold gilt remain on it and there's traces of solder around the middle ring so I think there was a tin sheet that was in the middle. Perhaps a campaign or political pin?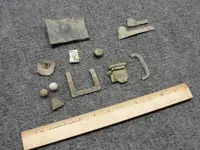 And the rest of the relics, a thimble, broken shoe buckle fragments, round balls, and an unusually small knee buckle. Or perhaps not a knee buckle, but a very similar construction. The nettles were already growing back when I was there so that's probably it for this year. For sure there's more hiding, but it's actually nice that a little bit will be there each time I return. I'm positive there are a few more shockers to be found, probably sitting squarely under pricker bushes, but over time I'll get to them too.

In the meantime I'm ecstatic about the two coins and I can only hope the next coppers I dig look half as good as they do!