Sep 22, 2006
2,571
3,241
🏆 Honorable Mentions:
Detector(s) used

Garretts only
Primary Interest:

All Treasure Hunting
Friday night was a blast at CFAD as the wild life was alive and keeping an eye on me. Noticed to the side of our guard post that not even our local "Tank Trap Detectorist Terrorist" could not make a mess like this of a lawn.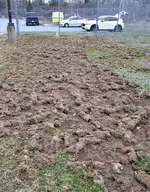 Drive
Marie and I headed down the old road stopping at Enfield for a fill up at Robins and ended up on the far side of Truro. Nogo was purring on a day that one had to get outside ,stretch and enjoy the sunshine with fresh air. Every nook and cranny along the Stewiacke River was dotted with men casting a line hoping for the big one.
Dig
Hit a permission that I had barely skimmed on my previous visit due to the bloody stubble being so high. This time it was roughly ploughed denoting the upcoming planting. Mind started to wonder! Three detectorists swinging away going down the field. Which one did not have any children. Thought on this on till I had an epiphany; made the answer seem too simple.....the man with the short shaft and low battery! Um. One of those had to be there to appreciate moments as I was struggling in the loose soil causing my knees to revolt. Found one new penny, a piece of a crotale bell and a pipe stem that indicated it was made in Scotland. Left the field feeling that I was missing something. Adjourned to a playing field which netted a few coins and a ring that I'm not quite sure if silver or not. Found later it did not take to a magnet which is a good indication....really cannot care either way but Hunny Bunny took a shining to it.
Dine
That I use loosely as we dined on Colonel Dirty Bird which ten minutes after consuming wanted to consume the consumer. Enough was enough so I went to the smart shop and met up with Capt. Morgan and his Spanish friend Pep Si and watched the Blue Jays play Cleveland. The joy! During the dig Zen Guru became unraveled as the electrical tape I had used around the hand grip area fell off. Using a man's best friend to fix Zen this time...flashy gray duct tape!