Mar 8, 2014
301
2,163
🥇 Banner finds
Detector(s) used

Bounty Hunter Sharp Shooter, Whites Spectrum XLT, Whites MXT, Fisher CZ-21, Garrett AT Pro, Minelab E-Trac
Primary Interest:

Metal Detecting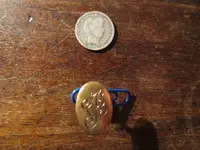 Found a Barber dime today. And 3 feet from that I pull up this monogrammed cuff-link. It is an older design. It is not marked, and I don't have a tester, so I can't officially proclaim it to be gold. However, the VDI reading, it's weight relative to size, and it's overall cleanness given it's age, give me confidence that it's the real deal.
Today's finds...
1901 Barber Dime
Gold (?) Monogrammed Cuff-link, appears to be Victorian or Edwardian
(1) Buffalo Nickel, date illegible
(3) Wheat back pennies, 1920, 1939, 1945
Silver plated utensil, not sure it's use. Maybe someone out there knows what it was used for.
PBS