Oct 25, 2020
2,568
6,387
🥇 Banner finds
🏆 Honorable Mentions:
Detector(s) used

Garrett ACE 400, Nokta Simplex+, Nokta Legend
Primary Interest:

All Treasure Hunting
A little cooler today so I went back to the park where I found the gold and amethyst ring a couple of weeks ago. First came the sterling "CTR" ring (Morman, I think for, "choose the right"), then the weird eagle pendant thing, with lots of clad in between.
So, for several years now, when I check the time it's 11:11. Happens to me all the time, almost daily, twice a day. I don't really know what to make of it, however, several times whilst detecting I've checked the time on my phone, and at 11:11 I've found my best finds.

Well, it happened again today. I pulled of my glove and fetched my phone from my back pocket and...yep, 11:11. I stowed my phone, donned my glove, gave the Simplex one swing and Bam! This time it was a 950 platinum/14k white gold band!
I never really check the time while I'm detecting except when my stomach growls at me to see if it's too early to eat my sandwich. Very strange how this keeps happening.
Anyways, I ended up with a sterling ring, a platinum and gold ring, a '52 wheatie, and $5.15 in clad.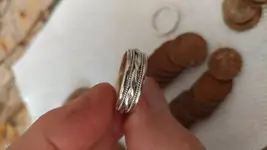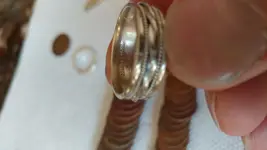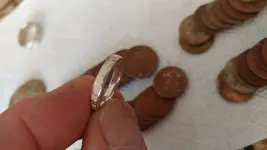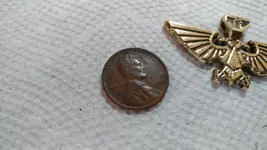 Thanks for peeking in!