In 1837, a one-legged man named Smith found a mine of wonderful richness in the Colorado Desert. He was piloting a party over the desert from Yuma, when he came to three hills which rose out of the plain. Not being sure of his bearings, he mounted the tallest of the hills to get a view of the surrounding country.
Upon this hill, which seemed to be composed of black quartz or rock, he found out-cropping ore fairly sparkling with the precious metal. He took specimens away with him and learned, upon reaching his destination, that the metal was really gold. The mine became known as the " Pegleg Mine" from the fact that Smith wore a wooden leg and was known as "Pegleg."
[
Footnote:
"Pegleg" Smith was a brother of tlie famous trapper, Jedediah Smith.]
After conducting his party safely to Los Angeles, Smith returned to the desert to investigate his find. He could not locate it. He could not even find the hills which had been the landmark upon which he depended.
In 1861 or 1862, a prospector passed over the trail from Yuma to Los Angeles. In the Colorado Desert he chanced upon three hills, and upon the larger one he discovered gold. He reached Los Angeles with $7000 worth of gold nuggets. He told of his find and described the location. It tallied with the description given by Smith of his find. A party was formed for the exploiting of the mine, and the prospector was preparing to guide his associates to the spot when he was taken ill and died. The mine was again lost and has never been found.
From time to time expeditions have gone forth to look for the lost Pegleg mine, but their searches have been fruitless. Scores of lives have been lost in the quest. To this day skeletons are frequently found in that section of the desert, grewsome [sic] reminders of the tortures of that terrible region.
One of the last of these search parties consisted of Tom Clover of Los Angeles and a man named Russell, of San Bernardino. The latter still lives in San Bernardino, but Tom Clover left his bones upon the desert.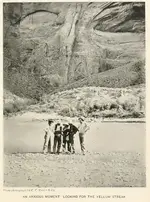 He ascended Superstition Mountain to take observations while Russell remained upon the plain. They agreed to meet on the opposite side of the mountain. Russell kept the appointment, but Clover was never seen again.
~
The Mystic Mid-Region; The Deserts of the Southwest
by Arthur J. Burdick (New York and London: 1904)
Editor's Notes: It is doubtful Pegleg Smith was Jedediah Smith's brother. And it was "Poor" Tom Cover, not Clover. Clearly this was not a "mine" - at best, a prospect. There are many tales about the bones of Pegleg hunters baking in the desert sun. Most of these, at least, appear to be yarns.
Good luck to all,
The Old Bookaroo, CM