Some copper points and some bone points.

(Copper plate was some of the earliest traded items along the east coast. The natives would roll it up, heat it and then shove it onto a arrow shaft. Then dip it in cold water to srink it onto the shaft.)
Hi found a copper spearhead that I would like to share but have no idea how to post it.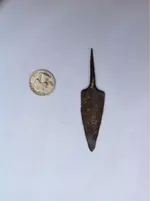 Last edited: