Hi Folks,
Treasurenet.com is hosting our first "Post Your Best Find" contest, and the grand prize is a brand new MX50 Metal Detector from Ground EFX.
The Long and Short:
Post a photo and brief story about your best find, whether it be a coin, artifact, painting, baseball card…anything. The winner will be chosen at random.
Details and Disclaimers:
Post only one photo please. The grand prize will be shipped directly from the manufacturer to the lower 48 states only. All members in the lower 48 are eligible. Entries must be posted in the official contest thread to be eligible. Entries can be current or past finds, but must belong to the member posting. Any entries found to be fraudulent will be disqualified. Contest ends on July 15th, and the winner will be announced on July 17th.
Happy Hunting!
The Treasurenet.com Staff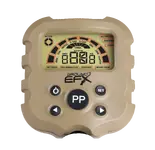 Ground EFX™ STORM™ Series MX50 Metal Detector
New Entry Level Digital Metal Detector!
Grand Prairie, TX — Ground EFX™ offers a family of metal detectors that emphasize advanced, yet simple-to-use equipment and focuses on feature-packed models that lead to more treasure and less junk! Ground EFX introduces the STORM™ MX50 that incorporates basic technology for the entry-level hobbyist with economical value.
The STORM™ Series of digital metal detectors deliver the latest revolution to the detecting world. The lightweight fiberglass and polycarbonate construction makes the STORM™ Series MX50 very durable and ideal for long hunts. The eight metal categories and adjustable discrimination, in conjunction with the three elimination modes, make it easy to detect coins, jewelry, relics and much more. The STORM™ MX50 is equipped with eight HD identifying audio tones for superior acoustic balance. The pinpoint mode provides signal strength and depth indicators to maximize target acquisition and identification quickly. The large, simple-to-use interface is visible in low-to-high light conditions. The quick release extension rod design adds up to 14" in length for all ages and heights of hunters, while the adjustable arm guard with strap is beneficial for layering in cold temperature treasure hunting. The 8" circular submersible coil can find treasure while eliminating trash and junk. The unit operates with (6) AA batteries and is backed with a 1-year limited warranty.​
STORM™ MX50 Features:
• New lightweight easy to use frame
• Extremely durable fiberglass and polycarbonate construction
• Large, simple-to-use digital interface
• 8 metal categories and adjustable discrimination
• 3 elimination modes: All-metal, Coin, and Jewelry
• 8 HD identifying audio tones
• Signal strength and depth indicators in pinpoint mode
• Quick release extension rod design, adds up to 14 inches
• Adjustable arm guard with strap
• Can detect quarter sizes coins up to 8 inches away
• 8" circular submersible coil
• Operates on (6) AA alkaline batteries (not included)
• Weight: 3 lbs
• 1 year limited warranty
FOR MORE INFORMATION — VISIT
GroundEFX Metal Detectors
About Ground EFX™: A brand under Synergy Outdoors established to provide reliable equipment that leads to more treasure and less junk, capitalizing the hunter's time in the field. Building on "getting outdoors", Synergy solved the need for feature-packed metal detectors at an affordable price.