Jun 26, 2021
14
91
Primary Interest:

All Treasure Hunting
Hi Everyone,
I have gone back to the farm field in southeastern Mass. a couple of times, which contains the potential site of a house that predates the current early 1800s farm house. I found several new copper coins shown in the images below. The bottom three appear to be Draped Bust large cents, I should say that the left two definitely are, but the right most coin is less clear. I felt like the head was a different shape, more similar to a Liberty Cap, but I think it is likely another Draped Bust. The left most Draped Bust is dated 1802, the other two have no date (all there rang up in the high 80s, low 90s on the AT Max). The next row up contains a smooth copper (26.6 mm in diameter), which I have no idea what it is (thoughts based on the diameter?), and the coin to the right appears to be a 1724 Wood's Hibernia. Unfortunately the reverse of the Hibernia is almost entirely lost, but most of the date and enough other features are there for me to feel comfortable to identify it. The next row up shows what I believe to be a lead-pewter button, but I am unsure, a 1927 Mercury, and what I presume to be a piece of a shoe buckle frame. The potential shoe buckle frame is very ornate and made out of copper or brass, it has a very dark patina. Any ideas for dates on the button or potential shoe buckle? The top most object is what I believe to be a native american artifact, possibly an arrowhead. The material does not seem to be the best quality, but I have found other artifacts made out of this same type of rock.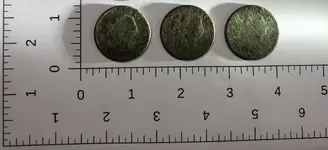 I think I found the location of a potential fireplace or fire pit, as there was what appeared to be ash in a hole I dug for the object below. I found a strange shaped large iron object (see images below). The second image to the right has a birch branch being used to prop the object up so I could take an image of its side. Any ideas? Also, chunks are falling off of it, is there any way to stop this and preserve the object?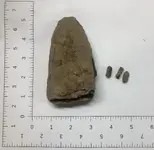 Thank you for reading and thank you in advance for any help.
Josh