Apr 12, 2016
335
1,001
🥇 Banner finds
Detector(s) used

Fisher gold bug pro/DP, fisher gold bug 2, Garrett ace 350
Primary Interest:

Metal Detecting
Went out early this morning before the sun came out, (about 6am) and started swinging. My second or third target was a strong and loud 55 on the VDI. I could tell it was something bigger than foil and close to the surface so I scanned through the grass and pulled out a Jesus emblem with a 14K stamp on it. I thought, "sweet, my first gold in a little while!" I then started to search the perimeter for the rest of the gold and sure enough, right next to it I pulled the complete necklace with matching 14K stamp. It was still dark at this point but I could tell right away I was more than likely holding a fake. It just didn't feel or look right! I've found my share of gold before, and you can always tell when you pull a real piece from the earth. If you have to question it, it's more than likely not real! As it got lighter outside I checked again and was sold on the fact that I got a "heartbreaker " haha. Oh well, it'll get added to the collection of "junker jewelry".
After that, I managed a 1958-D Rosie, a 1935 wheatie, a Bi-centennial drummer-boy quarter (my third dug I believe), a train-track smashed dime, two used heroin needles and a few other "odds and ends". Also scored about $3 in gas refund money!
All in all, got a nice session in. Found some shiny and some junky! HH everyone!
Sgt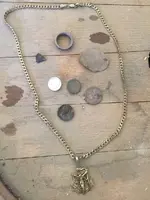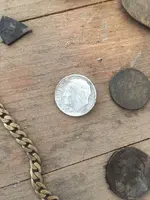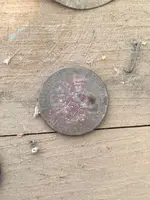 The picture with the keepers might not be the best of the fake chain. Some might say to double check its legitimacy. So I took a side by side pic with a REAL gold chain I own to show the difference [emoji106]🏻