Aug 14, 2016
750
5,985
🥇 Banner finds
Detector(s) used

Deus XP
Primary Interest:

All Treasure Hunting
Of course I had to go back! I set aside a whole day to continue the grid further out and even sift around where the cache was. As expected, not quite as much volume of finds as last time, but I did manage some amazing 18th century relics and got a bit further in figuring out who this homestead belonged to.
I dug out all of the larger rocks where the cache was more or less centered around and sifted a few shovels of dirt at a time. There was a bit of pottery and I did find a few clay pipe stems, but I was aiming for non-ferrous finds. Instead I happened on an absolutely incredible, intact, 18th century fork: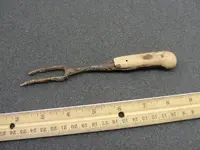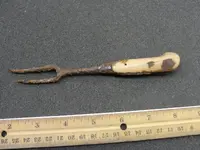 The pins that held the handle together rusted away, but everything else is there and both handle pieces fit perfectly. They're also remarkably solid so I don't think they're bone since bone tends to get spongy and stained. Antler perhaps? I don't turn up too many forks, likely because the iron signal is very faint, but it will make a wonderful addition to the display for this site!
I also turned up two pocket knives:
These handles may have been wood since there's no trace besides the iron bodies.
Fortunately it wasn't just ferrous finds, otherwise I would have felt a little foolish siting through all of that dirt! I did manage to tease out one more copper that was likely part of the cache: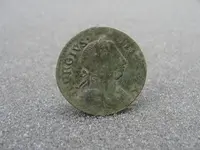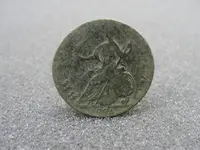 Another counterfeit 1775 King George III half penny!

That brings the total to four at this site, and all four are different varieties which should give you an idea of how many were floating around in those days!
After I sifted down to the clay layer I resumed the grid, but spaced out further from the foundation. Interestingly I found three different cufflink pieces scattered about:
The silver, floral pattern one is unfortunately not pure silver, but a thick silver wash on brass. Even still, the quality of the etching is absolutely fantastic. The center one that still has part of the link is an unusual pattern and appears to be the oldest of the three. I also found a few more buttons including a first for me: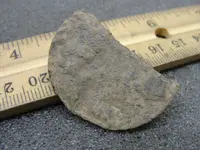 A dandy sized pewter button. I don't think many of these were made from pewter since this is the first I've found, but the swirl in the center is quite striking. One piece that turned up is a bit of a mystery and I could use some input on it: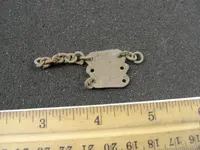 The plate is brass and the chain links are iron. There appears to have originally been chains on all six holes and there's no engravings on either side of the plate. The chain links are quite small so probably not holding much weight, but iron is an odd choice for a decorative piece. Any idea what this is from?
I mentioned in the last post that there was a very old family cemetery plot a little ways from this site, so I took some photos of the headstones this time. You can see in this first one that it's pretty well buried by brush, but they're good sized memorials.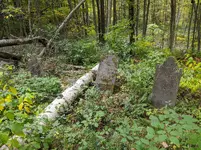 The dates on the stones range from 1788 to 1812 and comprise three different family names. The one that's associated with the Revolutionary War is this one though: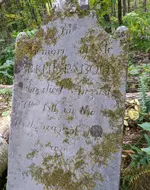 Parker Pabody appears on local Revolutionary War rosters which seem like the obvious choice given the USA button, but some more research turned up that he was part of a regiment that made muskets for New York State during the revolution. The button could have just been a coincidence, but the fact that the Pabody was involved in musket manufacturing actually might explain these other odd finds around the homestead:
The smaller piece I found while sifting and the larger one was some distance from the foundation. Both appear to be slag from iron smelting. Locally there was significant industry around charcoal production and there are charcoal circles all over these hills. The iron smelting was done at the next town over and the larger piece of recovered slag even has imprints that look like charcoal fragments which would place it at the correct time period. My theory is that Parker Pabody may have been involved in obtaining iron for the musket manufacture and kept a few interesting slag pieces from his journeys to the smelters. It's an interesting development and I'm hoping further research can shed some more light on his role within the Rev War unit.
I think I found another foundation along this road, so I'll be investigating that this coming weekend and I'm hoping that I can establish a time-frame for that one too and even better connect it to a family name. Hopefully there will be many more 18th century relics to come!