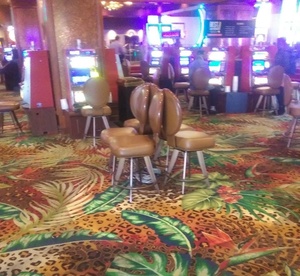 Of all the pictures I've posted on TNet, this is the saddest.
Yesterday I discovered that the last six nickel machines at the El Cortez Hotel, in fact in all of Las Vegas, were mothballed a few days ago. The chairs you see in the pic are where they once stood. It was a depressing moment, and it means the end of my casino nickel searching after 37 years. I will have to be content with the 59 quarter machines and 9 half dollar slots that are left, though they obviously won't be an adequate substitute. I'll say more in my Casino Royale thread, including a nickel stat retrospective eventually, but I wanted to post here for better visibility.
Thanks nickel slots. You've added volumes to my collection and untold enjoyment to my free time.