Dec 20, 2009
370
91
Detector(s) used

Bounty Hunter Pioneer 101 with Bounty Hunter Headphones and TX-2002 Pin Pointer
Primary Interest:

All Treasure Hunting
Hi T-netters, I've been able to get out and detect some new ground lately and found this Franklin D. Roosevelt-John N. Garner Presidential campaign pin. It's in pretty rough condition but was finally able to find a picture of one on the internet to compare and confirm my find.
The picture below has a copper tag(upper left) but don't know what is was ever for. Next to it is a rabies tag from 1955. I reckon it's probably expired by now and probably the dog too.

Second row on the left is either a fancy letter "L" or a cowboy boot.

Also included in these finds are a couple of little girls rings, a marble that came up with the Vermont quarter and this thing stamped with, "The Game Tracker". With an arrow symbol running through the word Tracker. A sighting apparatus for a hunting bow maybe?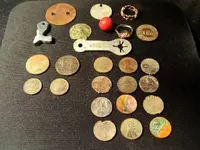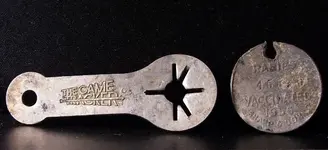 Thanks for looking and Happy Hunting