May 25, 2011
2,268
1,848
🥇 Banner finds
Primary Interest:

Other
This week I've been down in Florida visiting family in the Cocoa Beach/Melbourne Beach area. Now of course I had to bring a detector with me. Being on the Treasure Coast where you're not allowed to detect in the water, I brought my Deus to hit the sand. After about 4 hours of clad and bottle caps on Cocoa Beach, I was just about to call it quits. As I was walking from the surf line back up towards my rental unit I got a large high tone. I figured it was a copper or brass fishing lure because of its size and shape. Boy was I surprised when my scoop uncovered what at first appeared to be a mini rocket propelled grenade. After all, I was very close to a military base. Fortunately, it wasn't dangerous. But it was pretty cool! The object had a printed message on it with the instructions to contact the Georgia Aquarium if found. Once I read the message, I knew that I had found a satellite tracking tag. I sent an email to the address on the tag and a few hours later received the following response:
"Hi Jason,Thank you for contacting me regarding the satellite tag that you found on Cocoa Beach. The tag is an important part of an ongoing annual study to determine migratory routes of manta rays in NE Florida. The tag that you've found contains valuable information regarding the route that the manta took after the tag was applied almost a year ago to the day!!! I'd really like to get the tag back and attempt to retrieve any data that may still be stored on the tag. Would it be possible for me to send you a postage pre-paid package to enclose the tag in and send it to me for analysis? I'll send you a small token of my appreciation and be happy to share any data that I pull from the tag with you. If so, would you please send me your mailing address for where I can send the package? I am very grateful that you contacted me and hope that you would be amenable to returning it to me.
Thanks in advance,
Harry
Harry ****
Project Coordinator, Research and Conservation
Georgia Aquarium "
I shipped it back to him Priorty Mail yesterday and he should have it tomorrow. It's a fantastic honor to be able to contribute to the science knowledge of such an incredible species.
These tags are very cool as well. Made by Desert Star Systems, this model had a temperature gauge, magnometer, and ARGOS GPS. They retail for $1350 each. I'd rather find stuff like this than run of the mill gold jewelry any day.
Science Rules!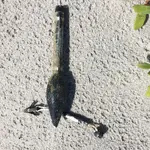 Last edited: