Apr 20, 2018
1,578
7,360
🏆 Honorable Mentions:
Detector(s) used

Fisher CZ-21, Minelab Excalibur,Garret AT Pro,
Primary Interest:

All Treasure Hunting
The cold snap was a bummer. It got down to 8 degrees with 30 mile an hour winds and we had another inch of snow. The good thing is it was above freezing for a day or 2 and the snow insulated the ground so it didn't freeze as hard as it could have. I still had to punch through an inch or 2 of frozen ground, but I can handle that. My old shovel is getting worn out and has developed a weak spot after 6 years of tough digging so I bought a new one to convert to my digger. Because of the rocky and sometimes frozen conditions I need a heavy duty shovel and I don't like paying a bunch to get one. So I buy a $30 trenching shovel and cut it down to size with a pointed tip instead of the normal blunt end. It doesn't take long to do and I really like how this shovel performs for me. This one has a slightly different style blade, but the handle is nicer and I think it will do fine.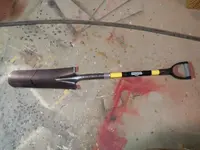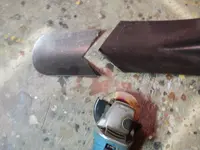 I went to a set of sports fields and did some walking around trying to find some goodies. Covid-19 has kept a lot of the sports teams from having games and practices over the past 2 seasons so not a lot of new stuff. In 4.5 hours with the Cz21 I did manage to find 56 coins with a face value of $3.71, a beat up round ball, a smoking device, tabs and can slaw.
The round ball is a .69 caliber I believe. I have found other civil war bullets here so that is a possibility. It was near the road and they did a lot of work in this part of the park over the past 2 years so no surprise it is a mess.
Then I went to another set of ball fields and spent another 4.5 hours and found 52 coins with a face value of $4.13, some bits of football equipment on the pee wee football field, tabs and slaw again. There was a 1957 D wheatie among the pennies.
My last hunt before the snow begins was to the middle school (a side note, I do have written permission to detect the schools. Around here schools are off limits if you don't get permission first.) This was the coldest day. It was 19 degrees when I started and got up to a whopping 27. I tried the neoprene fishing gloves Lenrac2 recommended on one hand and the mitten on the other. My fingers still got numb at 19 degrees on the neoprene hand and we're fine with the mitten. The neoprene was ok when the temps got above 25 later in the morning.
In 5 hours I did manage 70 coins with a face value of $2.46 (no quarters today, bummer), a set of keys, a GOD BLESS AMERICAN hat pin without the pin, a kiddie ring, a sinker, 2 civil war bullets, an earring, an assortment of junk including tabs and can slaw as always with miscellaneous construction metal as well.
I found a new location on the school property for these 2 bullets. They are scattered around the property. This is the 4th spot I have found them so far. They are a .58 caliber minie ball and a Williams type III without the zinc pin. The minie was in a gravel path (you can see the gravel in the picture) so it's kind of beat up on 1 side and the cleaner was about 8 feet away. It's amazing they are in as good a shape as they are considering they were probably moved around several times by heavy equipment during construction and final grading for the building.
The ring was nicely ornate at one time before the soil ruined it. The earring is silver with a round cz, but the broken earring back attached is not silver. I find a lot of these in the water, but very few on land. This one was about an inch down below the grass.
What do you get an old guy who doesn't need a lot for Christmas? One of my daughters came up with a good idea. A tee shirt that says in big bold letters "CAN I METAL DETECT IN YOUR YARD?" When it warms up I will have to wear it around town and see if I get any takers. Probably one of the best Christmas gifts I ever got.
So detecting in the cold weather with semi frozen ground did add to the clad total for the year and a few goodies for the school (they will get the civil war stuff to display at the school). The new digger did a good job, the new gloves will be ok as long as it is not too cold and a new tee shirt to help advertise my hobby. More good exercise in the fresh cold air to keep the old guy healthy. Not a bad week when you think about how it could have been. Thanks for looking, stay safe, good luck and may your coil lead you to good things.
P.S. as I write this the snow is coming down hard and it's going to get deep so this may be the last post for a while. I hope your weather is more promising than mine.