Apr 18, 2013
1,481
2,566
Detector(s) used

AT MAX & Carrot, Nokta Pulse Dice (:
Primary Interest:

All Treasure Hunting
I got out to a riverside beach this weekend in Ft. Pierce after the torrential rain last week. I've been detecting an area where a creek empties into the river and the shore always changes after a gully washer.
I thought my timing was terrible since it was high tide when I got there. Turns out it just got me to look closely along the new high tide line.
I managed to find multiple NA pottery shards, as well as a brass hinge with the screw still attached (in a washed-out palm tree root ball), and a porcelain license plate.
As you can see from the image I couldn't make out much on the plate at first because of the staining and rusting.
I was able to see ("St. Lu"), tag # 20(8?), and "FOR". Not much to go on but I was hoping that the porcelain protected more of the info if I could get the rust off without damaging it.
Here is what I was able to coax after a little phosphoric acid bath (not much help) and some elbow grease with a piece of pine fat-wood. Not a valuable find at all but very satisfying to pull a date off the plate.
BTW- It looks like the black paint was the last color to go on because of the light "bleeding" of the black onto the yellow on the base of the 2.
And here are some of the hinge with fastener attached.
(I like this because it goes well with a jewelry box hinge I found in 2018
(LINK)
with a retained fastener, although not nearly as old.)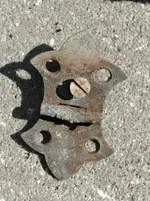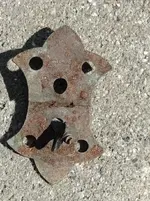 Thanks for looking and enjoy your day.
EDIT: Well, my attempt at an edit deleted multiple images. Lets see if I can resurrect them.
Last edited: