Apr 20, 2018
1,577
7,347
🏆 Honorable Mentions:
Detector(s) used

Fisher CZ-21, Minelab Excalibur,Garret AT Pro,
Primary Interest:

All Treasure Hunting
Went back to school with the CZ21 and expanded the main grid section. I spent all my time on the grid and the nickels and tabs were plentiful. In the 5 hours I was there I found 92 coins with a face value of $6.50, a kiddie ring, a cheapie earring, a bus token, a wheatie, the copper jacket from what looks like a .45 caliber bullet, an aluminum house number, lots of tabs and some can slaw.
The distribution of coins was unusual. Lots and lots of nickels. 13 quarters, 14 dimes, 30 nickels and 35 pennies. I also dug a nice number of tabs, 57 in all for the day. So I worked hard for the money and dug lots of trash to be sure I didn't miss any coins or goodies.
The METRO token is from 1973 and says METROBUS SERVING OUR STUDENTS. It was the best find of the day.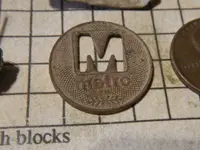 I took another trip to the civil war bullet school. I continued a grid in a less productive section. You have to cover every inch if you want to get as many goodies as possible. The last time I worked in this area I didn't find much but I did get a civil war bullet.
This trip was mostly about the clad. I spent 4 hours with the CZ21 and managed to find 53 coins with a face value of $2.44, a Dream Machine token, a Fashion Bug key chain, an old teaspoon, tabs and the usual junk.
The spoon has a nice chunk out of the bowl. It is marked "Wm. A. Rogers silver nickel". An interesting find, but nothing special.
I went to a group of sports field in a nearby town and spent 3 hour wandering around looking for some good spots. All together I found 73 coins with a face value of $3.63, a flag pole clip, a toy car, a tiny bead, a Canadian penny, a few tabs and can slaw.
The city just took possession of a 1920s property and I got permission to detect there. It's not a very big yard, but who knows what will come out of the ground. They will be tearing the house down and paving most of it to improve the road in that area so I need to get it done thoroughly right away or the opportunity will be gone.
I spent 5 hours starting the grid and covered most of one side. I found 18 coins with a face value of $1.26, part of toilet seat hardware, part of a marching band music holder, a piece of umbrella hardware, a military style civilian buttton, a plated heart pendant, a badly eaten up religious pendant, 2 wheat pennies (1934, 1957), a small piece of a pewter spoon, a chromed brass name plate, part of a watch, a toy kitchen knife, a porcelain lid liner (MASON GENUINE PORCELAIN LINED CAP) and a nice pile of can slaw and foil.
The name plate is from THE BISHOP & BABCOCK COMPANY CLEVELAND O. The made beer taps, soda fountain equipment and later auto air conditioner parts. They operated in the late 1800s until about 1935.
The pewter spoon piece is definitely oldest find of the day, but it could have been from great grandmothers spoon that the kids played with and broke in the 20s when the house was built. It could have been lost when the town was first established and just ended up here by chance. No way to know for sure.
I made contact with the jeweler who made the wedding band I found a couple of weeks ago and he was very cooperative. I sent him some pictures of the engraving and the company markings inside the ring. He replied that the ring was from the old downtown store and he doesn't have records from that time period so no luck there. If the owner contacts home for a replacement he will put them in contact with me.
So no skunk, but by my standards it was a poor week. Decent clad, but no silver or gold and nothing very old and Interesting. I will be camping with the family this weekend and I should be able to get in some early morning water hunts before the beach gets crowded (they say it will be the hottest weekend of the summer). Maybe I'll get lucky and find some nice jewelry. Thanks for looking, stay safe, good luck and keep swingin.