Aug 14, 2016
781
6,382
🥇 Banner finds
Detector(s) used

Deus XP
Primary Interest:

All Treasure Hunting
I stumbled on this site last year looking for another old map reference. It doesn't appear to have been detected before but targets are scarce and you really have to listen for whisper signals. Based on the relics it was abandoned prior to 1810 so it's a pretty limited spread of artifacts which is why this most recent pass was a great surprise. One of the first finds was this awesome pattered oval button in the center of the photo: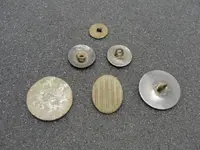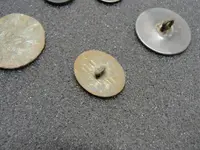 It looks like it was silver washed and is in surprisingly good shape. A couple tombacs turned up as well and a dandy button that looks like it was run over a few dozen times. In the middle of the button spread was a find high on my wish list: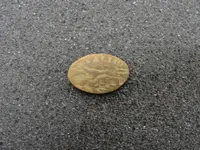 A Tallio cufflink! I've seen a few posted, but they don't seem to turn up very often and I never expected to find one at such an obscure spot. There's actually a local hunt club that does full hunts on horseback with dress and hounds (but no killing) and I know they'll come unglued when they see this relic since they're very proud of the local tradition. I'll keep looking for the other half, but this is a great addition to my colonial cufflink collection!
To my surprise one colonial copper did turn up: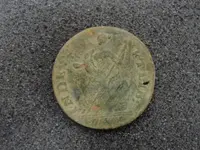 I was able to identify it not only as a 1785 Connecticut copper, but also the specific variety. It's a Miller 7.1-D which is listed as an R-4+ so likely less than 100 examples known. Here's what a non-dug one looks like for comparison: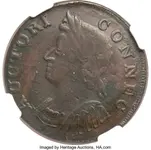 I was hoping it was a Miller 7.2-D which is listed as an R-6+. They're apparently the exact same set of dies, but the 7.2 is later in the minting run and it has a characteristic flaw on the obverse. The obverse on this coin is pretty toasty, but it does appear to be missing the flaw so it's a 7.1. Still a very uncommon coin, but an R-6+ would have been an insane find.

There were a couple more cool relics as well including this odd pewter tube that I haven't figured out: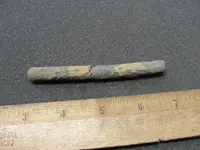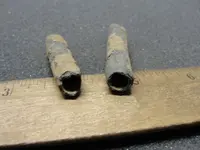 One end is solid so it's not a pipe. I don't see any holes, but maybe part of a whistle?
The other relics were a bit easier to ID: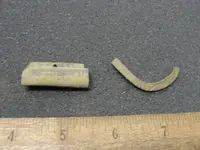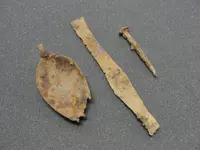 I found a ramrod guide and a partial Georgian shoe buckle fragment. Also some iron relics in decent shape. The last relic, full disclosure, is from the winter. I tried hunting the spot in March, but the snow was too deep so I was swinging around in frustration on my way back to the car when a strong signal came through the 6" of snow. I dug down and pulled out this beauty: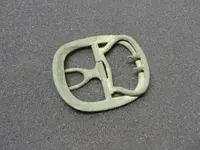 This is why I love colonial spots!