Jan 28, 2005
2,913
7,812
Detector(s) used

ONES THAT GO BEEP! :-)
Primary Interest:

Other
Gidday All
Here is one of the most awesome places one can visit that is still lived in today. The village La Couvertoirade .There are people still living in building whose origins was Templar.
There are five major Knights Templar sites in Aveyron France, fortified villages that were positioned strategically in the Causse du Larzac to enable production of food supplies, shipped out through the nearby port of Montpellier as well as providing an income for the Templars and later the Knights Hospitallers. The village La Couvertoirade was just one of them.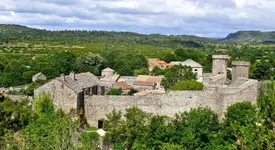 Visiting La Couvertoirade is like traveling back in time. Like wandering down lost road in the French countryside through farms and forests then bam over rise it hits you like if your fallen back into the 13th century.
The village La Couvertoirade site was particularly important for farming – horses, sheep (for wool, milk and meat) and grain and explained that the Knights Templar were great landlords whose wealth came at least partly from their ability to protect and support their tenant farmers. A religious military order, their original role was to protect pilgrims on the road to the Holy Land, then later to protect the land itself.
You can wander the streets amigos and history screams at you where ever you. Look.
From the air you can see the extent of the Templar Medieval village.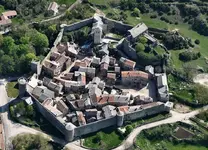 Do ya want to see inside the village amigos. Its awesome and the village has an awesome story of Templar treasure discovered at the turn of the last century.
Crow