Super Moderator
Staff member

Indian chieftain.
(Vinita, Indian Territory [Okla.]), 30 July 1896.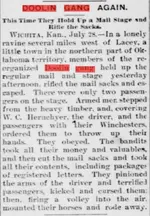 https://chroniclingamerica.loc.gov/...gang&andtext=&dateFilterType=yearRange&page=1
Born in Oklahoma in 1879, Dunn became an outlaw when she fell in love with George Newcomb, a member of the Doolin Gang. Dunn participated in the gang by providing them with ammunition and supplies when members could not go to town. Once, Dunn saved Newcomb when he was wounded by U.S. Marshals. She dodged open fire and held off the Marshals with her own rifle until he could get to safety. Dunn's brothers, who were bounty hunters, eventually turned Newcomb in and Dunn settled down with a politician.