Mar 8, 2014
255
1,513
🥇 Banner finds
Detector(s) used

Bounty Hunter Sharp Shooter, Whites Spectrum XLT, Whites MXT, Fisher CZ-21, Garrett AT Pro, Minelab E-Trac
Primary Interest:

Metal Detecting
Nice array of finds today. Copper spoon handle. Silver plated (?) spoon, no mark. Couple whatsits. Bicycle die. Star bridle rosette. Pocket watch bezel. The smallest thimble I have ever seen. Marbles. Civil war era naval button front. Weslock key. Large sterling ring (marked Theda) with most of the stones missing. And a blob top bottle stopper with bottle (well, part of it).
And a number of coins to go with them.
A closer look at the marbles. Love finding marbles. I'm not an expert on marbles but I believe the one in the middle is hand made as it appears to have a nipple on it. Also has play damage, and tons of bubbles. The one on the right I can't figure out. Not sure if it's clay. Doesn't appear to be porcelain. Opaque and not perfectly round.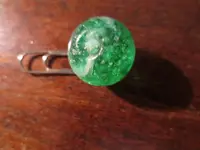 The pontil.
And a closer look at the whatsits. Love the one on the left. Maybe pewter. One on the right I'm thinking is part of a button.
Today's finds...
Copper spoon handle.
Unmarked spoon.
Couple whatsits.
Bicycle die.
Bridle rosette.
Pocket watch bezel.
Tiny copper thimble.
(3) Marbles.
Weslock Key.
Front portion Civil War Era Naval Button.
Stopper blob top bottle.
Large Theda Sterling Ring.
1864 Indian Head Penny.
1929 Mercury Dime.
1917-D Wheat Penny.
1928 Wheat Penny.
1945 Wheat Penny.
1956-D Wheat Penny
1957D Wheat Penny.
PBS