Jul 26, 2020
75
246
Detector(s) used

Minelab CTX 3030 with optional 6" coil, Whites MX Sport w/Garrett Z Link, Killer B's Stinger headphones, Predator Tools 85BC, Whites TRX pinpointer, Anaconda NX5 digger, Whites Digmaster hand digger,
Primary Interest:

Metal Detecting
So, hitting a park in my neighborhood I haven't hunted. There was a ferry very close to it that has history back many years.
Anywho, I am calling myself as the winner of "crudest old ring award" for the year.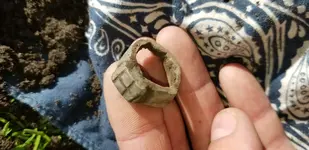 Last edited: