Jan 5, 2012
1,338
2,822
🥇 Banner finds
Detector(s) used

XP DEUS
Primary Interest:

Relic Hunting
So I'm not much of a beach hunter, but I think that is about to change. Always been a inland coin, relic, token hunter.
My beaches are typically littered with modern trash. Most people that can afford nice jewelry do not come to Mississippi for the beaches.
Yesterday I took my 3 year old daughter with me for a short hunt to look for treasure.
To my surprise we dug a nice sterling claddagh ring that was most likely a recent drop.
So decided to go back this morning for a couple hours and bring the big Nuttal Scoop I never use. Was able to work the Low tide range and it wasn't long that I pulled a large ring with a red stone that has a 10K mark.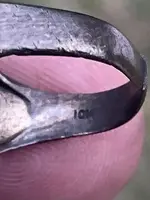 Not long after this I dug another 10K ring that says 1922.
I believe this is a 100 year old class ring.
Hunted for a while longer and found a thin damaged band with clear stone that I think is plated. Looks like I see some brass shining through.
Probably spent less than 4 hours digging and ended up with 4 rings. I think I'm gona have to spend a little more time on the beach..
So how do people clean old saltwater tarnished gold.?
Thanks for looking
Last edited: