I've got a few of the new FLOWPANS[emoji769] that were first run and have the bottom bolt holes on the sides, not the ends.
(We changed that just to make mat fitting easier on our production end.)
Figured I'd grab 5 of them and do a Christmas Giveaway here.
I have to say... out of ALL the products we've developed over the past many years, I think this one is the
most FUN to use and for the size... moves a ton of dirt. If you'd like to read more about it... see
the website >>>>
Flow Pan | The Gold Pan with Flow
Simple rules...
1- Just reply to this post... "I'm In"
2- Please only reply once. (FYI Anyone joining under multiple names to increase chance to win violates TN rules and will earn long timeout or ban. TreasureNet mods)
3- Open to all in the US and Canada.
On Christmas day... we'll use a random number generator to pick the winners.
(This post will not count as part of that.)
I will post the NUMBERS but won't be able to count through the list that day just FYI.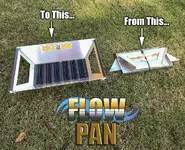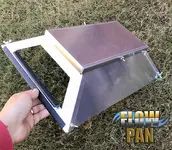 Last edited by a moderator: