Super Moderator
Staff member

Jun 15, 2008
34,263
17,968
Primary Interest:

All Treasure Hunting
Today's Brain Teaser #66 (11AUG2013)

Must answer both questions correctly to win!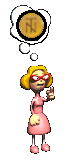 OK - here we go:

[*=3]QUESTION 1: I have four wings, but cannot fly - I never laugh and never cry - on the same spot I'm always found - toiling away with little sound. What am I?
[*=3]QUESTION 2: A giraffe, elephant, camel, bear, pig, frog, alligator, snake, two mice and an elephant are all under one regular size umbrella. How many got wet?