Sep 21, 2012
446
2,090
🏆 Honorable Mentions:
Detector(s) used

ONLY MINELABS, and now one Detector Pro Underwater.
Primary Interest:

Beach & Shallow Water Hunting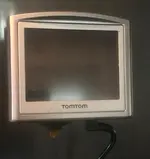 I just came across this in a draw while looking for something else. It was the first GPS in my family and was a gift to my oldest daughter from her Aunt and Uncle when she got her drivers license about 17 years ago.
This thing moved us from paper folding maps, Rand MacNally atlas map books and printed AOL directions into the age of mobile satellite access and directions +-inches previously reserved for the military.
A kid that gets a drivers license in 2019 might not even know what this is and if they did most likely never have heard of a TomTom.
As good as it was/is it could also drive you off the road into a lake and drown you.