Mar 16, 2016
3,400
5,192
Primary Interest:

All Treasure Hunting
Finally set aside a day of detecting.
Well actually a half day.
I obtained permission to detect a piece of land that saw some of the early California Gold Rush Miners. There are many places like this here, but actually obtaining permission is fairly uncommon.
Got a signal that sounded like it could be a silver dollar so I dug carefully. Out pops this tongue. Almost yelled out loud. I could have walked away perfectly content, but I knew I had to spend some time looking for the other half. About 20 minutes later, and 30' away I get another good signal. For some reason I wasn't expecting the other half of the buckle to pop out, but it did. This time I did let out a holler. It's a cast buckle. So far I have seen a similar pattern that was thin stamped construction. Anybody care to try and date this?
Military? Militia..private patriotic buckle? The outer dia. of the wreath measures 45mm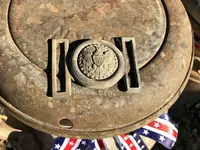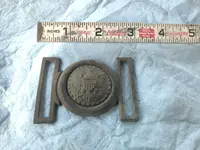 Last edited: