Nov 12, 2019
86
149
Primary Interest:

All Treasure Hunting
Hello Friends,
The attached Antique Transparent container was discovered recently but still havent have reallity on what it is.
Inside the There is a Big Bottle of Gold and the Arabic Words on the Transparent Container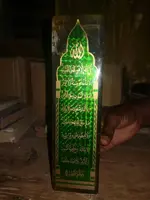 The Quran That can be seen from the inside of the container
The Golden Bottle can also be seen
Tha Bottom of the container
The Bottle brings some mysterious sounds and in the Dark it shines very bright.
It was discovered in Some islands in On the sea Shores The East African
We actually need to know and try to see what kind of technology was used to store and make this mysterious thing. It is a wonder in the current world and the world to come.
Its Amazing to see it.