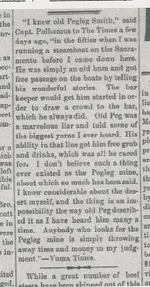 While looking for early-day articles about the Lost Adams Diggings, I came across these two brief pieces on the Lost Pegleg.
Seldom does a researcher find such diverse points of view in the same issue of a publication!
From the St. Johns Herald (St. Johns, Apache County, A.T. [Arizona Territory]) June 29, 1893.
Last edited: