Hello all,,,
Finally got back out for a little hunting today. Went to the cache site for as long as I could take it. The mosquitoes just about tore me up even though it was late afternoon. They don't usually bite over there until late in the evening but for some reason they were ferocious today. I think I'll wait until fall to hit that site again...
Only two treasures for today and I left them behind for someone else to find...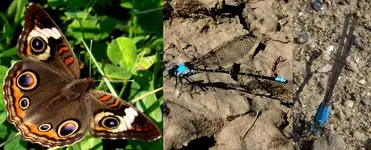 I thought the face you can see on the moths back was pretty cool and I had to chase the little dragonfly all over the place to get a shot of him...
Hope you all are doing well,,,
Good luck, & Happy hunting~