I've been speculating what this could be for awhile now, would be nice if someone knows anything about this find. There's a double headed eagle on it, It's very flat and has the same image printed on both sides. Dug it up with my metal detector in the yard about a year ago.
What do you guys think it could be?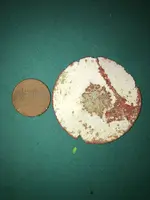 Edit note: Just added a more accurate picture of both sides, as it gives a better idea of what it looks like flipped. Just made a hasty picture back then while preparing this mysterious disc to be first posted on this forum.
When flipped, the scepter changes to a different hand.
Last edited: