Apr 20, 2018
1,421
6,293
🏆 Honorable Mentions:
Detector(s) used

Fisher CZ-21, Minelab Excalibur,Garret AT Pro,
Primary Interest:

All Treasure Hunting
We went camping with the family this last weekend. We went to a state parks about 100 miles from home. We usually come here every fall to go to the pumpkin patch farm and have family time with 1 of our daughters and her family. They are a little more restrictive in the detecting rules here. They pull the swim ropes and put up the no swimming signs the day after Labor Day. You have to get written permission from the park manager to detect. I was able to get permission to do limited wading (knee deep) so I could do some water detecting.
I'm not here during the summer so I am not sure how much the swimming area is used or when other people, if any, detect here. I usually have decent luck so I gave it a try.
A thank you to my wife for being a great spouse and letting me avoid some of the family stuff to detect on Saturday afternoon and for sitting in the truck for 4 hours (it was raining off and on) while I finished my detecting on Sunday.
I spent 8 hours working the 2 swimming areas knee deep (detecting in the water at the end of October is unusual for these parts) and part of the beaches with the ATPro. As usual set on PRO ZERO with IRON DISCRIMINATION at 30 and IRON AUDIO on. I found 54 coins with a face value of $5.33, 3 frequently found toy cars, ever present tabs, pellet gun pellets, a selfie stick retainer, a stainless nut, sinkers, an Ice bag fastener, a bullet, lots of junky jewelry with 3 junk rings, a quartz pendant, silver and gold jewelry, a stainless pendant and a bunch of foil.
The jewelry was good. A 22 inch silver rope chain, a 14k pearl earring, a 14k miraculous medal stud earring (very thin and light), 3 silver earrings with czs, a silver ring, a partial bent silver earring, a bent silver lobster claw clasp, and a silver earring back. 8 silvers and 2 gold is good for 8 hours of hunting.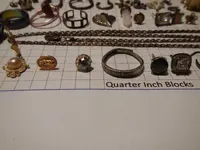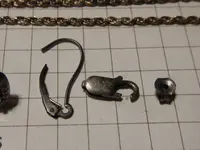 The silver ring is different than any I have found before. It is adjustable and has a slot on one side for the other end to fit into as it is adjusted. In addition the tail that goes into the slot is inscribed with I LOVE YOU. It has a crescent moon on the front and is a little bent up, but easily straightened.
The chain is my favorite find. It is complete and in good shape. It is marked 925 ITALY which is quite common on this type of chain. A little polishing and it will be good to go. I do like the rope style chains.
I found this on Sunday. It is a pendant that looks and feels like stainless steel. A rather appropriate and spooky find for October 31. It kind of says Halloween don't you think?
Another state park hunt with more goodies. Lousy rainy, windy weather, but at least it wasn't too cold (lower 50s is good for the end of October). I got to try out my new chest waders and it was a lot warmer than my wet suit would have been. Fresh air exercise helps to keep the old man healthy, the finds make me wealthier and the experience makes me wiser. Life is good, enjoy. Thanks for looking, stay safe, good luck and may your coil lead you to good things.