Jan 31, 2015
3,753
9,038
🥇 Banner finds
Detector(s) used

Fisher F75
Primary Interest:

Metal Detecting
Three hour hunt in Baltimore this morning and dug three 19th century coins. This was a 'first' for me to find two large cents in the same day in the City.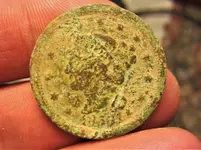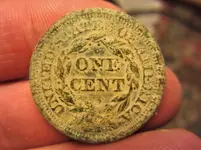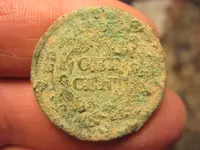 Both are a little 'toasty' but enough detail can be seen to place them both in the 1850s, in fact, I believe the first if 1856.

The other 'coin' had me 'scratching my head'. Never saw the 'seated' figure on a brass coin.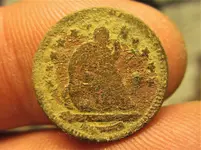 This is a Smith & Wicks canning token, c. 1870s.

Got to tell you the better story from the morning. A man in his 30s stopped by the fence and asked me if I find anything 'old' in the park. He lives a block away from the park and showed me a coin he spotted recently in a dirt pile by some homes that are being renovated in his block.....a 1923 Peace dollar. He wants to get a detector since he has an interest in collecting coins. ...another great conversation from a hunt in the City!
​