May 24, 2014
1,748
1,349
Detector(s) used

Minelab's CTX 3030, E-Trac & EQ800, Fisher F75LTD SE & F44, Whites MXT All PRO, Whites TRX Pointer & Shovel, Predator Tools Raptor hand digger & Ranger shovel. Grey Ghost Ultimate headphones.
Primary Interest:

Metal Detecting
New lower price >>> $ 75.00 shipped CONUS...
Wireless Headphones TDK WR700 with Custom Cable as NEW $75.00 Delivered in CONUS
These are as new. I wore them for just a few minutes. They work great, I just love my Grey Ghost headphones. They will work with most all detectors. I bought them for my Etrac and F75SE. The pics are of it installed on my Etrac. They come in the original box. I also bought a heavy duty custom connection cable for them that I will include in the price.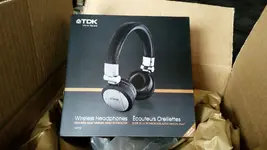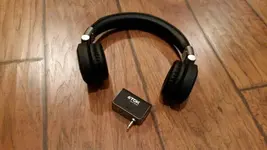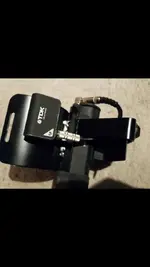 Here is some info on the headphones:
TDK WR700 Headband On Ear High Fidelity Wireless Headphones - Black/Silver
Just like new in original package
Experience the freedom of wireless listening with the TDK WR700 Wireless Headphones. These headphones use a transmitter to wirelessly sync with your audio device so you can listen to music, podcasts, or the radio while still enjoying a full range of movement. With their loss less wireless transmission and comfortable on-ear design, these headphones deliver a dynamic, faithful sound performance.
Wireless Headphones Give You Freedom of Movement
The WR700 Wireless Headphones let you enjoy rich, high-fidelity audio without the limitations of a cord. The headphones come with a 2.4GHz transmitter that plugs directly into any audio device with a 3.5-millimeter port. The transmitter can broadcast audio signals up to 33 feet away before signal drop-off, making it ideal for use with stereo systems, radios, PCs, and other stationary audio devices. You'll be able to freely move about the room without disrupting your listening experience.
In addition, up to four wireless headphones can connect to a single transmitter dongle so multiple listeners can tune into the same audio source.
High-Fidelity Transmitter Ensures Precise Sound Reproduction
Equipped with Kleer's loss less wireless technology, the WR700's transmitter ensures high-fidelity playback of your music. The transmitter flawlessly relays the audio signal from your device to the headphones, preserving it from signal loss and degradation. Dynamic channel selection helps boost signal quality further by minimizing dropouts and signal lag. The result is a loss less, CD-quality audio stream that is faithful to the original recording.
Powerful Drivers for Rich Audio Performance
Featuring high-grade audio engineering, the headphones deliver detailed, immersive audio performance across a full range of frequencies. They are outfitted with 34-millimeter drivers that deliver clean highs and tight, resonant lows. The headphones also utilize high-grade memory foam in the ear cushioning, which keeps ambient noise out and lets you immerse yourself in your music.
Energy Efficient for More Listening Time
The headphones are designed to maximize battery life, providing up to 30 hours of continuous listening time. Thanks to low power consumption, you won't have to interrupt your listening session to swap out or recharge batteries (four AAA batteries for headphones).
Comfortable Design with Accessible Volume Control
With their ergonomic, on-ear design and soft ear pads, the WR700 headphones keep you comfortable while you listen. The headphones also feature a convenient on-ear volume control, allowing you to easily adjust volume whenever you want.
Last edited: