Nov 26, 2017
369
987
Primary Interest:

Relic Hunting
I've always wondered about the age and the history of this turquois colored, three layered bead. How long was it worn, and by whom, to produce the observable, significant wear down into an interior layer. So I spent a little while exploring the bead collection of the Corning Museum of Glass, and using its FILTER to REFINE my search. Really nice site. Anyone who is doing bead research should visit:
https://www.cmog.org/collection/search/beads
Turns out this is a
Nueva Cadiz Bead
. Here is the Museum's bead (...the nice photo....), my two photos showing the wear and the three layers of my bead, and the museum's description. I would love to believe mine is as old as the 1500's and was brought here by the Spanish....but might be 'just' from the 1800's. My bead was found in Erie County, New York State in the 1960's.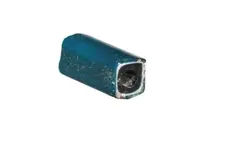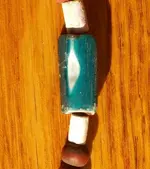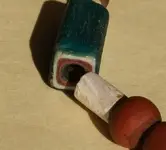 "The Nueva Cadiz bead is named for a location on an island off the coast of Venezuela, the first archaeological site where this type was found. The island was a Spanish port from the first half of the 16th century, and it is associated with Spanish exploration of North and South America. Nueva Cadiz beads are related to Venetian chevron beads because both are compound layered glass beads made with the same technique. Unlike the Venetian chevrons, the Nueva Cadiz beads have only three layers, usually consisting of a dark blue core, a white layer, and a bright blue exterior, although there are examples with red cores and additional exterior stripes. In form, they are squared tubes (although some are twisted in the drawing process to produce a spiral shape), and the exterior layer can range from bright turquoise to deep blue. The earliest Nueva Cadiz beads were found at various sites throughout North and South America in the 16th and 17th centuries. They are thought to have been brought by the Spanish and then traded into the inland areas of North America. The original place of manufacture for these trade beads remains a mystery, but they were likely produced in Bohemia or Venice. Beads of this type and quality were also being made in the Netherlands during this period. A later generation of these beads, dating from the 19th and 20th centuries, was probably crafted in Venice. These later beads are found in Africa. The Nueva Cadiz bead illustrated here is thought to have been found in South America. It displays the turquoise exterior layer and the untwisted, squared cross section that are typical for this type of bead."
Last edited: