Gold Member

Aug 24, 2017
15,775
27,528
🥇 Banner finds
🏆 Honorable Mentions:
Detector(s) used

Minelab CTX 3030; Minelab Equinox 800;
XP Deus 2
Primary Interest:

All Treasure Hunting
Got out and beat the heat here in Oklahoma. When We first got out it was cloudy and cool. An hour in the hunt and Wow!!! It got hot. Regardless We had a Good time detecting. I didn't do the best today, but had a Good Day. Jimmy got a 1917D Merc, a dateless Buff, and a 1943P War Nickel.
I found a 1945 Wheat and a Cool old Safety Deposit Box key. And I believe some sort of an incense burner( not Silver).
Thanks for looking and Happy Hunting!!!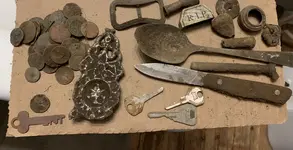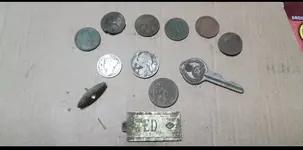 Last edited: