Oct 9, 2017
463
1,128
Detector(s) used

Blue Excal 1000, Enox 800
Primary Interest:

All Treasure Hunting
Finally had a day off for myself and headed down to the local river to see what I could find. I've been waiting for it to recede so I could get out a little further without drowning too. Came across a smallish snapping turtle and tried to get a pic, not too good but squint a little and you may see it.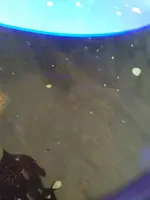 I was finding things along way and was just about to step on a rock in a little pool when I saw it was yet another snapper, much bigger.
Here's another pic with him/her at the bottom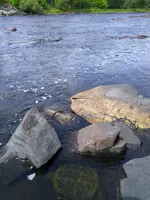 I worked my way along up river to a place I found an 1816 Bullhead Shilling back in the spring and was hoping to find more. Well, I did, 1819 this time.
Also found a US. 2 cent piece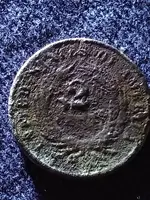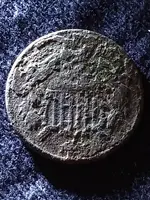 A couple of pocket knives an Indian head penny, an 1861 Canadian penny, a crazy heavy 1/2 pocket watch, a couple of clad, and that big round thing (?).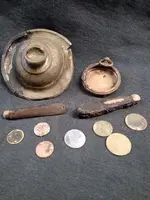 I don't know what that is but I've found a few so far. If anybody knows please tell me. Thanks for looking.