Apr 30, 2014
380
906
Primary Interest:

Other
Hows it going everyone..
I went up to a claim that my buddy from work owns this weekend and made an interesting find. The claim is in a well known gold district in the California motherlode. There is a small creek running through it that is loaded with lode and placer claims.
My son and I detected up a hillside but didnt do too well plagued by the hot hot ground (Im still new at detecting).
We finally had enough of the thorns, the bushes, and the death falls and decided to make our way back down, and on our way we found this rock (photo below). I ran the detector across and it screamed like i was swinging over a railroad track. I once came across a couple of guys on the same hill who said they were hunting for jade. I think that the green quartz looking rock is jade. It looks like theres also black sands, quartz and host rock included as well. The rock is very heavy -12.4 lbs.
I read that in an "undisclosed" area of california that there is jade found with gold in it. Given the heavy weight, I'm hoping theres gold somewhere in there.
Any experienced eyes have any thoughts as to what it is? I really dont want to crush it in case it is something valuable so I thought That I would reach out for some advice here.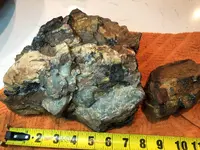 Last edited: