Greetings!
I'll keep this short. I returned to a section of woods where I recently found a William iii halfpenny and a nicely gilded Navy button. I hunted for about three hours without much to show for my efforts. I hit a reasonable signal along side a stream...not a great signal, but I figured worth a look.
At the bottom of the hole was an incredibly small coin. Thought it might be a trime...but seemed too small.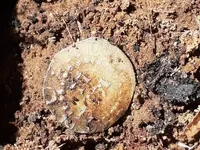 It wasn't until I got it home that I realized what I had found...a 1662 Massachusetts Oak Tree Twopence coin. Honestly, I...